Tuesday December 16, 2014
Kill The Myths: My Trip to New York
By Tom Butler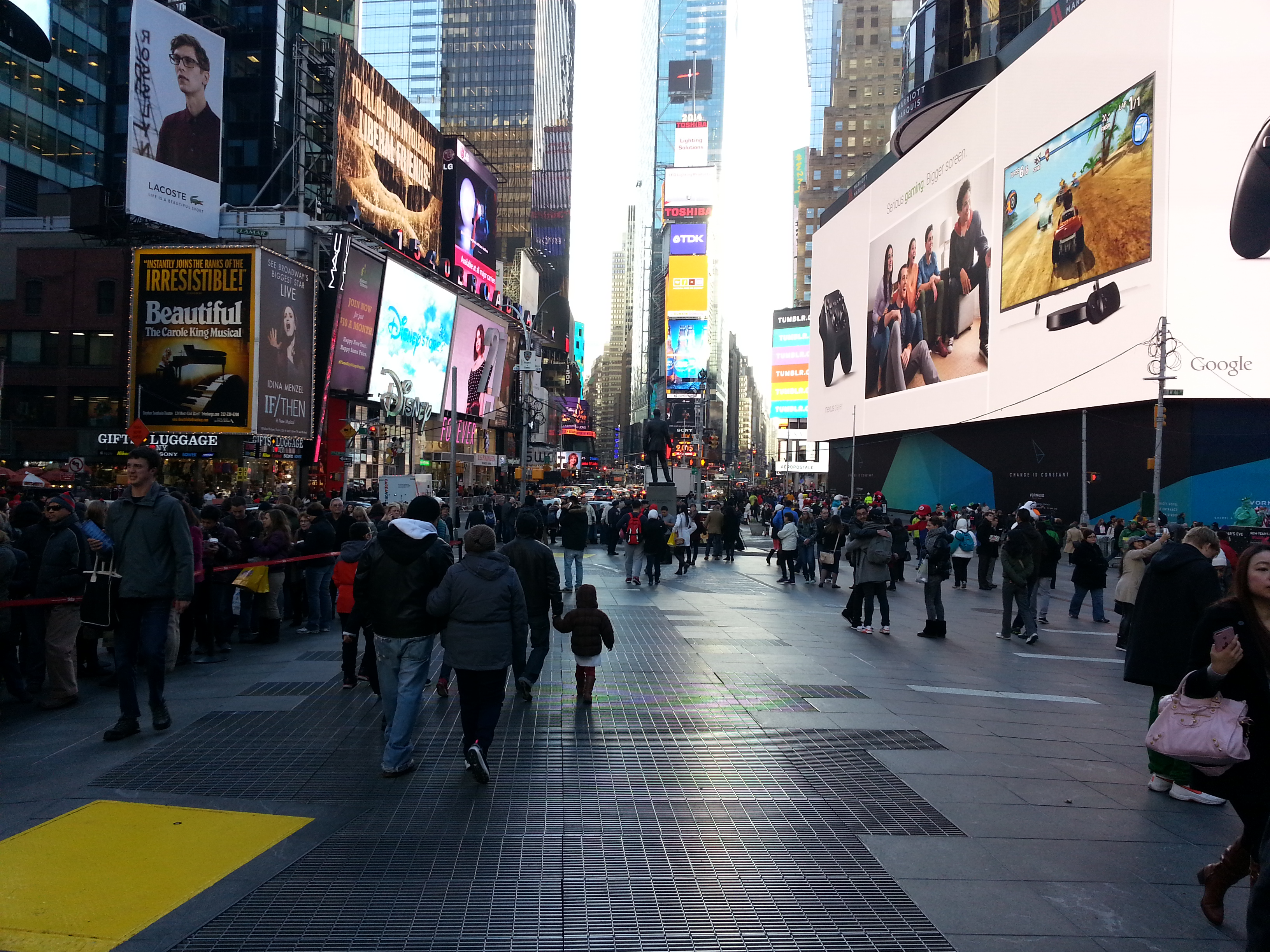 Quick Recap: New York City is overall a pretty safe place!
I currently live in London and was pretty nervous about my first trip to the Big Apple. People tols me that the subway was dirty and and smelly (which I'm sure is more of an isssue during the muggy summer months). During this winter Christmas season, however, the subway was just your basic run of the mill dirty-ish subway.
Quick question for those in New York: is the water under the tracks a result of Hurricane Sandy?
Some of you might be thinking, were there rats in the subway?  Yes. Were the rats as big as small dogs? No.
My trip passed like a lightning strike with a bunch of glorious branches that were the incredible encounters I had.
I flew in on Thursday Dec 11 and took a dial 7 cab to Desmond's tavern on Park Avenue South where I was to play my debut NYC acoustic set. After the little last minute marketing I did (thinking that no one would possibly care about my little concert, I was happy to have five dedicated fans that showed up to see me specifically. 3 girls flew up from North Carolina for the show (shout out to the amazing Abreu family!!) and Jennifer and her mom who had seen me busking in London and kept up to date with my where abouts via Facebook. I am so blessed to have such dedicated fans.
Also during the show (this never happens in London) a girl threw card onto the stage.  On the back was her phone number and the message "nice sad songs". 

Friday December 12 (Day 2) - I slept in and then went and had a writing session with the amazing Alex Forbes. We wrote a solid song together that I'm excited to show you over the coming months. I think you're really gonna like it. 

Saturday December 13 (Day 3) I began an amazing co-writing session with Valerie Broussard (if you've not checked out her music, CHECK IT OUT HERE  because it's amazing and she's got a killer voice), Jeff Franzel (who I've mentioned before, he's an amazing person, pianist and songwriter who has written with N*SYNC and had a few top 10 hits), and producer Michael Spivack (who I met for the first time on this trip and proved to be an amazing songwriter and lyricist, in addition to an awesome person. 

I also got the chance in the evening to go out and try some of the local food. New York night life is much like London night life except no curfew because the subway is (somewhat) 24/7. 

Sunday December 14 (Day 4) I stopped by LDS church near the Lincoln Center on my way to another day with Valerie, Jeff, and Mike. We finished the song and honestly I'm so stoked about this song. We finished the song before 2pm. In the evening I made my way over to Brooklyn where I visited Cariad Harmon (an amazing Folk Singer Songwriter with a beautiful voice, guitar skills, and an amazing new album that she just put out). Within two hours we had a brand new song. It was brilliant. Then I accompanied her and her guitarist to amazing Mexican food before their resident show at the Rockwood Music Hall (amazing music venue in the lower east side). She plays every Sunday night at midnight (starting backup in January 2015). Her performance was absolutely amazing. I was blown away by the skill and cohesive nature of her and her band. They all played together and really put Cariad on a pedestal. It was an amazing show. Then I caught a taxi home. 

Monday December 15 (Day 5) I had the wonderful opportunity of seeing my cousin Nikki (who I honestly forgot lived in New York). She's an accomplished painter and artist. It was great to catch up with her. 

I then visited  Time Square. I got a Hot Chocolate from Starbucks, sang a Christmas song with the LDS missionaries who were in the square sharing a message about Christmas, and then walked back up to Central Park and played guitar. At the park, two passing girls asked me to play a song. I played Jason Mraz's "I won't give up" and they loved it. Then I caught the subway to JFK and flew to London.

Such a remarkable trip. I also need to say a huge thanks to the Hughes family for opening their home and letting me stay while I was there. You made the whole trip possible!