Hey Friends,

London Mayor's Office announced Gigs Big Busk 2014 Songwriting Finalists: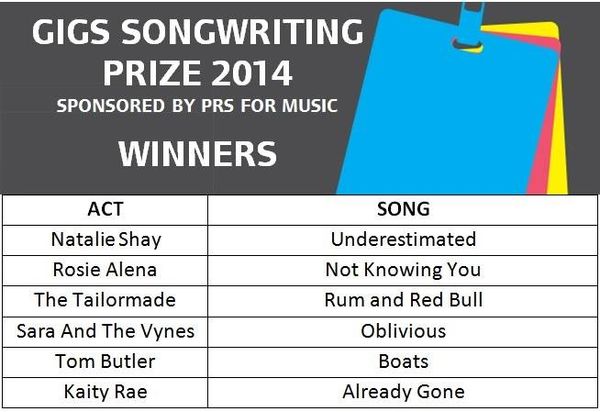 "Gigs HQ is pleased to announce the six winning songs in the Gigs Songwriting Prize, sponsored by PRS for Music. The prize was open to all Gigs acts who write their own music and the winners chosen by a panel of judges. The six winning songs are now being listened to by Guy Fletcher, Chairman of PRS for Music, who will choose the overall winner.

All six songwriting prize winners will be invited to attend a day of songwriting industry workshops. In addition, the overall winner will play a set at the PRS for Music VIP Tent at Glastonbury 2015 (wellies not provided as part of the prize!)

The winning song will be announced at the Grand Final on Sunday. Come along to find out who it is!"
I'm very grateful and pleased to announce that Boats was chosen. There are 5 other excellent songs in the running (good luck everyone). Here is where you can watch and hear all of them:
Natalie Shae
- Underestimated
Rosie Alena
- Not Knowing You
The Tailormade
- Rum and Red Bull
Sara and the Vynes
- Oblivious
Kaity Rae - Already Gone
Tom Butler - Boats
Better version of boats: 
https://play.spotify.com/album/3m4fTC4ZdrkucIRiD859A9
I'm super stoked to see you all this Sunday at the
Westfields Stratford
stage. For more information about the gig, check out: 
https://www.london.gov.uk/get-involved/events/gigs-grand-final
I hope you are doing well and this update fulfills most of your current goals. But seriously, thank you for your support... I wouldn't be able to do any of this without it. 
Cheers, 
Tom Butler
www.tombutlersings.com
Tweet this article for a free song :) 
*This would be a dream come true. See my "what is your dream gig?" answer from the
interview with AmericanSongwriters.com
as proof